Product
home > Product > INTERIOR CHEMICAL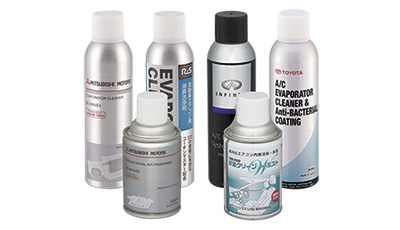 For comfortable automotive lifestyles, improvement of the vehicle interior environment is very important. Our air refresher will make it possible to treat various bad odors, such as alkaline, acidic, and neutral smells from various sources, including inside the vehicle, by chemical reaction with the elements of such odors, each of which has different properties. In addition to the effects against bad odors, it also has a sterilizing and antibacterial activity to effectively clear fungi, ticks, and bacteria that will cause health damage and bad odors from air conditioners.
RELAFULL GUARD
RELAFULL GUARD was launched on January 15, 2021.
The effect of copper ions and active oxygen maintains Anti-virus,
Anti-bacterial, and Anti-fungal effects even after the product has dried.
It creates a clean indoor environment!
It meets the SIAA standard regarding anti-virus effect and safety.
* Please refer to the following document for detailed information.
RELAFULL GUARD detailed information >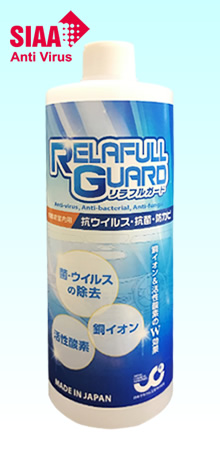 【Liquid】
【Applied surface】
RELAFULL GUARD, anti-bacterial, virus,and fungus agents for car and building interior, is approved by the Society of International sustaining growth for Antimicrobial Articles(SIAA).
A goal of the Society of International sustaining growth for Antimicrobial Articles (SIAA) is to popularize appropriately treated and secure Kohkin/Boukabi products.
With the industry and customer representatives, testing institution, specialists, and the government, SIAA maintains rules governing the quality and safety of treated Kohkin products and certifies the labeling and use of SIAA marks, symbols for the security of products that comply with the rules and standards.
【SIAA Website】

・SIAA Anti Virus(Japanese) https://www.kohkin.net/antivirus.html
・SIAA Anti Virus(Chinese) http://www.kohkin.net.cn/antivirus.html
* This product is not intended to treat or prevent any disease.
* This product is not guaranteed to be effective against all viruses and bacteria.
* The effectiveness and duration may vary depending on the usage environment,
materials, and type of bacteria, virus, and mold.
* This product uses an ethanol solution as a solvent.